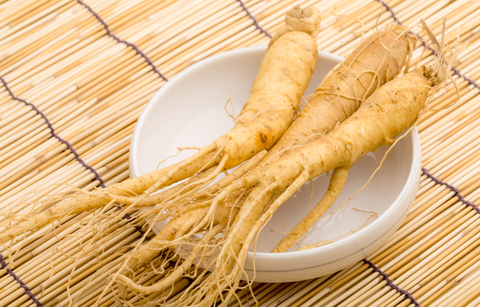 Ginseng use in ancient China, dating back more than 2,000 years, was driven by its perceived benefits for vitality, to support natural immunity, and to promote a feeling of wellbeing. 
We recommend supplementing with Ginseng in periods of low energy and/or high stress in order to support energy levels, alertness, cognition and to help counter fatigue and tiredness. 
Today, ginseng is sometimes called an "adaptogen," which is a substance that is supposed to help the body better cope with mental or physical stress. Scientists have not found any evidence that adaptogens exist. But ginseng has been studied for several conditions, and it is one of the most popular herbs not only in Asia but also in the United States and Europe.
Many studies of Asian or Korean ginseng have used combinations of herbs. So it is not always possible to say whether ginseng by itself produced the results. According to UMM Med Center **, research on Asian ginseng has included the following conditions (for more independent details on each check here **):
Cold & Flu
Hearth Health
Type 2 Diabetes
Mental performance
Physical endurance
Stress and well-being
Fertility and erectile dysfunction
Cancer
Menopausal symptoms
Ginseng is considered beneficial for fatigue because it spares glycogen (the form of glucose stored in the liver and muscle cells) by increasing the use of fatty acids as an energy source*. As such, ginseng can also be beneficial for diabetes as it decreases the level of cortisol in the blood, which in turn interferes with the function of insulin.
Studies have found that ginseng seems to increase the number of immune cells in the blood and improve the immune system's response to a flu vaccine. In one study, 227 people got either ginseng or placebo for 12 weeks, and got a flu vaccine after 4 weeks. The number of colds and flu were two-thirds lower in the group that took ginseng**. If you are suffering from hypoglycemia, we recommend avoiding using large amounts of ginseng.
* Prescription for nutritional healing. 4th edition. Phyllis A. Balch, CNC
** University of Maryland Medical Center. Medical Reference Guide – Complementary and Alternative Medicine
---
BioCare Ginseng provides you with Panax Ginseng Extract equivalent to 3000 mg Ginseng and providing 600mg ginsenosides per daily intake. Vegetarian, vegan, gluten free, wheat free, dairy free, yeast free, no added sugar, no salt.
BioCare MaleForte® Plus is a synergistic complex of zinc, Korean ginseng, nettle & amino acids, particularly suited to the special requirements of men.
As always, we suggest consulting with a nutritionist for a more specific discussion.