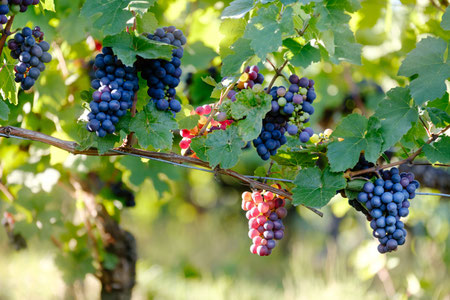 Grapes have been heralded for their medicinal & nutritional value for thousands of years:
Egyptians ate grapes over 6,000 years ago, and a number of ancient Greek philosophers praised the healing power of grapes (most frequently in the form of wine). European healers used to make ointments from the sap of grapevines to treat skin and eye diseases. Additionally, the leaves were used to stop bleeding, inflammation, and pain. Unripe grapes were used to treat sore throats, and dried grapes (raisins) were used for constipation and thirst. Round, ripe, sweet grapes were used to treat a range of health problems including cancer, cholera, smallpox, nausea, eye infections, and skin, kidney, and liver diseases. Vitamin E, flavonoids, linoleic acid, and OPCs are highly concentrated in grape seeds, making them a popular natural antioxidant.
Penn State Hershey Medical Center quotes a study of healthy volunteers found that taking grape seed extract substantially increased blood levels of antioxidants. Antioxidants are substances that destroy free radicals, which are harmful compounds in the body that damage DNA (genetic material) and even cause cell death. Scientists believe free radicals contribute to aging, as well as the development of a number of health problems, including heart disease and cancer. Grape seed extract has also been shown to protect against bacterial infections, such as Staphylococcus aureus.
Whilst official health claims cannot be made, grape seeds are being used to treat a range of problems related to free radical damage. Conditions may include (though some research only in early stages):
Chronic venous insufficiency
Edema (swelling caused by surgery or an injury)
High cholesterol
High blood pressure
Cancer
If you want to read more about grape seeds and their benefits, we recommend the Penn State Hershey Medical Center webpage through this link.
---
BioCare Antioxidant Complex is a potent and synergistic combination of natural plant extracts including flavonoids and carotenoids, with alpha lipoic acid and vitamin C, providing antioxidant support. It includes Grapeseed, Tumeric, Green Tea Extract and Piperine. See product details
BioCare Oregano Complex is a combination of concentrated food grade oils which are freeze-dried and micellised to  promote absorption and bio-availability. Oregano Complex provides Garlic, Grapeseed Oil, Borage Seed Oil, Oregano Oil, Clove Oil, Ginger Grass Oil and vitamin E. See product details
---