Puritics® replaces Bio-Kult, which going forward will not be distributed in Switzerland anymore (more info and background below)
Puritics® ersetzt Bio-Kult, das in Zukunft in der Schweiz nicht mehr vertrieben wird (Hintergrundinformationen im Blog)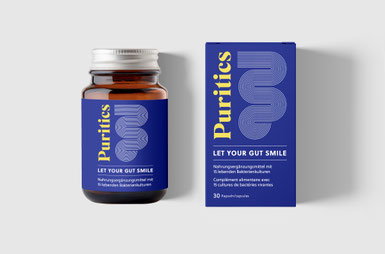 Puritics® replaces Bio-Kult, which going forward will not be distributed in Switzerland anymore
About a year ago the Swiss food authorities had contacted us as they had an issue with the word "Bio" in the product name Bio-Kult. From their point of view this suggests the product could be "organic" and as such represented false advertising, although the producers had a trademark for the country. Any of our attempts to explain during a lengthy dialogue with the cantonal laboratory that this was an international brand, sold in over 30+ countries, that "Bio" is used differently in English (where "Bio" is "Organic") and derives from the Latin "Life" in its use, as well as the fact that various Swiss brands also use "Bio" as part of the product names (i.e. Biotic G, Symbiolact, Omni-Biotic and are allowed to continue doing so have brought nothing.
As a result, jointly with the producer ADM Protexin, we have decided to stop the distribution of the Bio-Kult product range. We regret this, as we have been convinced of the quality of the product, as evidenced by its broad markets acceptance and customer feedback.
However, where there are challenges there are opportunities, and as such we have set out to develop our own brand Puritics® and create a probiotic solution, which will outperform existing local products as well as the already well formulated Bio-Kult.
---
Puritics® ersetzt Bio-Kult, das in Zukunft in der Schweiz nicht mehr vertrieben wird
Vor etwa einem Jahr hatte sich die Schweizer Lebensmittelbehörde an uns gewandt, da sie ein Problem mit dem Wort "Bio" im Produktnamen Bio-Kult hatte. Dies suggeriere, dass es sich um ein "Bio"-Produkt handelt und stelle somit eine irreführende Produktanpreisung dar, gleichwohl der Hersteller ein eingetragenes Trademark für die Schweiz hat. Alle Versuche, in einem langwierigen Dialog mit dem Kantonalen Labor zu erklären, dass es sich um eine internationale Marke handelt, die in über 30 Ländern verkauft wird, das "Bio" im Englischen anders verwendet wird (wo "Organic" für "Bio" steht) und sich in der Verwendung vom lateinischen "Life" ableitet, sowie die Tatsache, dass verschiedene Schweizer Marken ebenfalls "Bio" als Teil der Produktnamen verwenden dürfen (z.B. Biotic G, Symbiolact, Omni-Biotic) haben nichts gebracht.
Daher haben wir uns gemeinsam mit dem Hersteller ADM Protexin entschlossen, den Vertrieb der Produktreihe Bio-Kult in der Schweiz einzustellen. Wir bedauern dies, da wir von der Qualität des Produktes überzeugt sind, auch bestätigt durch breite Marktakzeptanz und Kundenfeedback.
Doch wo es Herausforderungen gibt, gibt es auch Chancen, und so haben wir beschlossen, unsere eigene Marke Puritics® zu entwickeln und eine probiotische Lösung zu formulieren, die sowohl die bestehenden lokalen Produkte als auch das bereits gut formulierte Bio-Kult übertreffen.
---